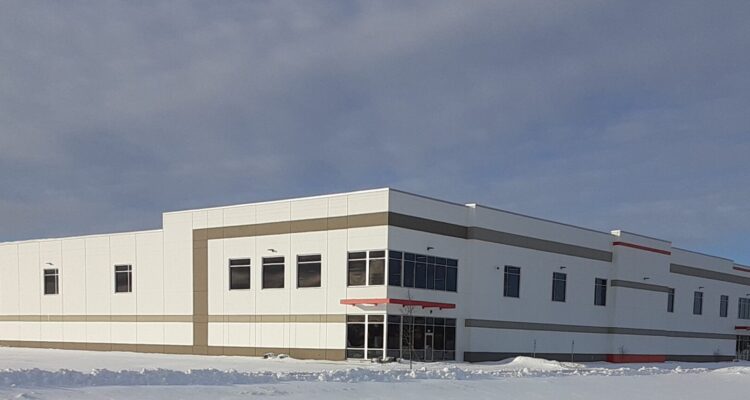 Warehouse Repaint and Industrial Facility Repaint – Benefits, Timing and Preparation
There are a number of benefits to maintaining the finish integrity of your warehouse or industrial facility. A good clean finish not only provides you with a professional customer-facing look it also assures optimal lighting and contributes to the overall safety of your facility. At Devine Co. Painting, we pride ourselves on partnering with customers to provide repaint solutions that make sense for your business. We can help you determine whether your warehouse or industrial space is ready for a repaint and put together a project plan that fits your business needs.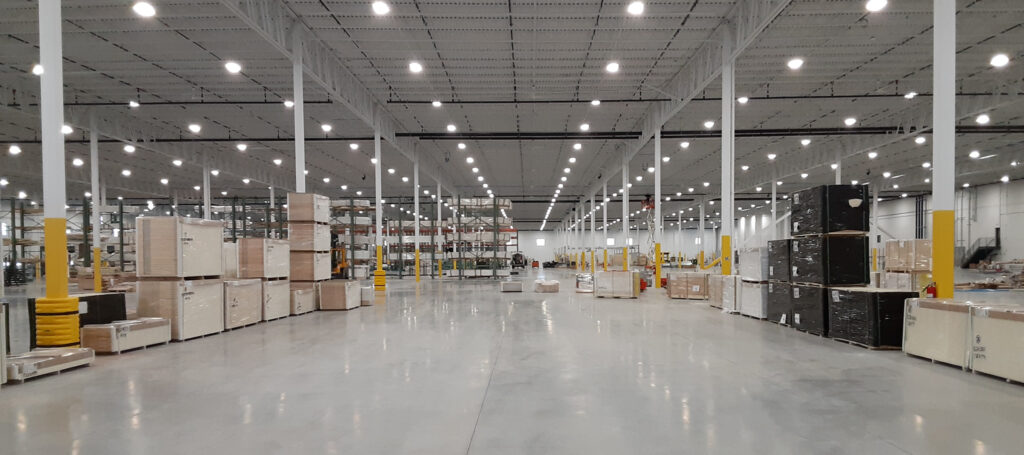 There are many factors to look for to help determine if your facility is ready for a repaint. Here are just a few to consider:   
Corrosion or Rusting
Water, humidity, condensation and salt can all wear on your structure over time. If you are seeing areas begin to rust, it is time to consider a repaint of your warehouse or commercial facility. If there are outlining factors that are creating a corrosion problem, it is best to deal with those first. Keeping water and harsh chemicals off your finishes will assure they last. A repaint will include proper preparation of all corroded surfaces and selection of finish products that will prohibit future corrosion and assure longevity.
Fading or peeling paint
Over time, most paints will begin to fade. This can be accelerated in areas that see a lot of sunlight. Exterior walls are most often the first to fade due to prolonged sunlight exposure. If your exterior is looking dull and faded a repaint will make a huge difference. Exteriors are the face of your business and are seen by passing customers and visitors more than your interior spaces. A repaint of your exterior can help with brand identity and will assure that your business is represented professionally.
Interior walls and ceilings that are exposed to moisture can lead to paint starting to peel. If you've noticed that your walls just look dull, or there are obvious areas of paint peeling off the walls, it's time for a repaint. A new finish will brighten your facility tremendously creating a safer environment and a better work environment for your employees.
It is also important to be mindful of fading and/or peeling floor markings in your facility. This can compromise safety conditions so maintaining floor paints and markings is important as you consider your overall repaint needs.
Stains
Water stains, chemical stains and other unsightly spots will be properly prepped and covered in a repaint. Moisture stains that are left unchecked can lead to mold and fungus, so it is best to stay on top of repairs to assure your problem is resolved.
Cracking
Cracks in caulking or concrete walls can lead to water coming into your facility. These can continue to expand if left unchecked so it is best to repair these early to avoid further degradation.
Preparing for a repaint
It is common for warehouses and industrial facilities to postpone repaint work due to potential disruption of the business. After all, your business needs to continue to operate and generate revenue despite its looming maintenance needs. It's important to prepare well in advance to make sure your business minimizes disruption. This could include moving inventory to different spaces ahead of time and mapping out phases of work. Talk to your commercial paint contractor to make sure that they are taking steps to protect your facility and minimize downtime. At Devine Co. Painting, we work with customers to help keep your business operating throughout a repaint. This includes planning work for specific times of day or night, protecting and covering areas that are not in the project scope and planning work in specific phases allowing you time to move inventory as required until the project is completed.
Conclusion
Repainting your warehouse or industrial space will keep your facility bright and inspire a better working environment. It provides an opportunity to update your business look by adding color, accent and updating your overall design and improving brand identity. Most important, it protects your facility assuring surfaces will last well into the future.
Devine Co. Painting has decades of warehouse and industrial repaint experience servicing the Milwaukee and Southern Wisconsin areas. Whether your space is 20,000 sq ft or 1 million sq ft, we have the resources to deliver a quality repaint experience. Please contact us to discuss your repaint needs.